Sewing and Embroidery Classes and Seminars to maximize your Sewing Machine's Potential at Jenny's Sewing Studio
| | |
| --- | --- |
| | |
 Sewing Classes at Hancock Fabrics in Salisbury, MD! Call 410-677-3461 to enroll!

    Learn to use your Sewing Machine  and Sergers           

Sewing Machine Basics- Learn the basics of using your machine.  We will wind a bobbin, thread the machine and work on the stitch functions. Please make sure you bring your instruction book with the machine. Learn the blind hem, appliqué, mending stitch, buttonhole, sewing on buttons, over edge, and more. Bring thread, your machine and scissors plus your book. Fabrics and materials will be provided for $5.00 payable to the instructor. limit 4. Class is 1 -3 hour lesson - $30.00 #3466174
Sunday December 15th 1:00-4:00pm
Saturday January 18th 1:00-4:00pm
Wednesday February 5th 1:30- 4:30


Serger Sewing Basics – Learn to thread and use your serger. We will cover the ¾ spool stitch, flat lock and narrow roll hem. You will practice the stitches and make a few projects as you learn. Make sure you bring your serger and instruction manual, 4 cones of white thread ( prefer one cone of yellow, blue, red and green) scissors, and tweezers. Fabrics and materials will be provided for $5.00 payable to the instructor. Class is 1 -3 hour lesson is $30.00 Limit 4     #3466158                             
Sunday December 29th 12:30-3:30pm
Sunday January 5th 1:00 - 4:00
Wednesday Februaury 12th 1:30-4 :30
                          
Heirloom
sew
ing skills- Learn to do pin tucking, shirring, puffing, do fringe foot fagoting, how to make entruduex with the wing needle, narrow roll hem, wing needle hemstitching, twin needle, cording, and special heirloom techniques in an afternoon class. You will create small samples and get to try feet and accessories in class. Bring all feet you own for your machine. Extra $10.00 materials fee. Class is 1 -3 hour lesson - $30.00 #3466174
Monday January 6, 2014 1:30-4:30pm
Wednesday February 26th 1:30- 4:30pm                

 Serger heirloom bonnet class- We will do pintucks puffing strips, lace edging, ribbon insertion, gathering and construct a small bonnet in class using your serger. Student must be able to thread the serger to attend class. Suggest Serger Basics to start learning how to use the serger. $15.00 kit fee. Class is 1 -3 hour lesson - $30.00  #3466158
Sunday January 19th, 2014 12:30pm-3:30pm


Applique by Machine- Learn to applique using the satin stitch and the blanket stitch. Also learn how to use some of your decorative stitches. We will do a heart and a bunny applique in class. Kit fee is $10.00 and will include patterns for both projects plus material to do both blocks. See the quilt link for the hearts. $30.00 tution. 3466174
Sunday December 22nd 1:00 till 4:30
Wednesday January 22nd 1:30-4:30pm

Basic Sewing Classes

Beginner Basics- Ages 13 and up. Learn basic use of your sewing machine and sew several sewing projects. We will cover bobbin winding, threading, sew a basic hem, sew a basic seam,  and make several basic projects in class!  You will learn how to turn sew corners, clip, turn and stuff a small pin cushion.  Once our project is done you will be ready to learn patterns and sizing. This is a 1 all day session designed to get you started. Time remaining will be used to go shopping for fabric. We will start an unlined jacket project Simplicity 1620 is pictured and required for your 1st project. I suggest you enroll in our Beyond the Basics to continue learning how to use more patterns or to finish your project and start a new one. Additional kit fee of $5.00 is required and is payable to the instructor for sewing materials to introduce the sewing machine and sewing skills. Bring  fabric scissors, pins, seam gauge, and your sewing machine complete. Limit 4 (If you need a sewing machine please reserve one week before class.) $50.00 #3466133
Saturday January 4th 10-4:30pm for a 1 day class
Wednesday January 29th 10-4:30pm

NEW!!!  Beyond the Basics!! Pre-requiste "Beginner Basics" class  Continue sewing and get help making more sewn items. Get help with collars, cuffs, buttonholes, setting in sleeves and more.  Suggest you cut out the garment before class to get the maxium from the session. Sign up for a full day- 10:00 to 4:30pm - $50.00 #3591682                   
Saturday December 7th 10- 4:30pm
Wednesday February 19th 10 - 4:30pm

Fabric quilted Purse - Choose your favorite color combination for your  fabric quilted purse. ( I can h
elp you purchase the correct fabric  from 9:30am to 10:00am.)
Learn to quilt your own fabric- Purchase 1 yd of purse body fabric to quilt. Also buy 1 yd lining and 1 yd fusible batting ( you can subtitute 1 yd of prequilted faric for lining and batting), 3/4 yd of contrast for handles and trim and matching thread. You will also need an 22" zipper and one 18" zipper. Bring your sewing machine, walking foot, open toe foot, rotary cutter and ruler. You will also need a fabric marker or a chalk pencil.  Enrollment fee is $40.00   1 session #3600921 .
Wednesday December 4th 10:00 - 4:30pm
Saturday February 15th 10:00- 4:30pm

Strip pieced purse -Strip quilting is fast and easy and a quilt way to create a quilted fabric. Fabric can be all one print or multicolor prints. Learn to make a purse that you can use for easy trips to the mall and on vacation. The purse has features like easy pockets for the cell phone, address book and your pens just under the flap. Back zipper pocket will hold money or makeup. Come at 9:30am and to pick your fabrics with instructor help. Free pattern given in class. $40.00 ( if time allows we will start the strip pieced wallet) 1 session #3600921 . Pattern for basic bag.

Saturday December 21st 9:30-4:30
Wednesday January 15th 9:30-4:30
Monday February 3rd 9:30-4:30

Strip Piece Quilted Wallet - Good class for beginners!
Learn to strip piece a wallet that will hold credit cards, change and cash. Learn
zippers and trim. Makes a great gift.  Pick your fabrics with instructor help. Free pattern given in class. $30.00.
#3600939 - 1 session .
Wednesday November 27th 1:30-4:30pm
Saturday December 28th 1:30-4:30pm
Monday January 20th  1:30pm - 4:30pm
Saturday March 8th 1:30 - 4:30pm

Ruffled Serger Purse
Using your serger and a sewing machine you will be able to create this beautiful serger purse! You can purchase the "Serger Satchel" pattern from Jenny for $10.00 and Jenny will provide a sewing machine for you to use in class if you need one. You provide the serger. You will need: 1 yard for ruffle or 12- 2 1/2" strips, they can be all the same fabric or varied like the sample displayed. (1 yard) and 2 yards for purse base, lining, bias trim, handles and ties. Also one 1/2 yard of Fusible Fleece and a contrast thread for your serger trim plus thread to sew the bag. #3600921
Only 3 students per class. $40.00
Wednesday December 11th 9:30-4:30
Saturday February 1st 9:30 - 4:30pm

Embroidery Machines                            
Embroidery Machine Basics- Learn where to start with your embroidery machine.
Bring your machine and card writer or USB thumbdrive if you wish to try out the embroidery. (Depends on your machine and software as to whether you can sew out a design.) We will cover stabilizers, threads, marking and positioning tools, templates, and give you some great ideas to try with your machine.  Learn to embroider a towel and tee shirt. Demonstration will include a generic embroidery software that will work with all machines. See how to create embroidery from clipart and photos. Lettering will also be covered. 3 hours - $30.00 Limit 4-  $5.00 kit fee #3466174
Sunday December 8th 1:00- 4:00
Sunday February 16th 12:30-3:30pm

Singer Futura seminar #1- Singer Futura 2 day seminar Saturday and Sunday January 25th and 26th . Enroll Now for only $150.00. Location is Hancock Fabrics in Salisbury, MD. Fee is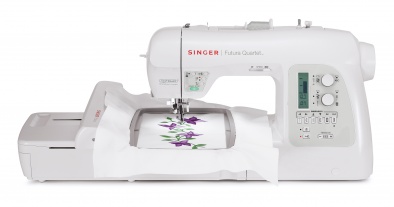 $150.00 per student which includes materials for Saturday and Sunday.  Each student will receive a copy of the designs used in class and instruction that covers the basic program plus Hyper font, Editing, Auto punch, and Photo stitch.  Students will also receive materials for an embroidery project using the lettering and multi-hooping. Seminar is styled to all Futura products including all CE, SES, SEQS6000,SEQS6700, Quartet, XL400 and XL550. Seminar is limited to 4 students and fills quickly so enroll asap. You must have a good understanding of how to use your computer to copy, paste and make files, use a mouse and the Futura must be in good running condition to attend this class. To enroll call Hancock's at 410-677 3461 #3600913
 Singer Futura Seminar #2 Saturday and Sunday, March 1st and 2nd

Several students have been asking about more lessons to practice embroidery skills.  Here is what we will learn in class!   3-D embroidery, corner placement, Applique, modified cutwork, lace embroidery and twin needle embroidery and multi-hoop designs will make up the seminar. (You should have a good understanding of your computer and basic software and know how to thread and use the Singer Futura. Machine must be in good working order to attend this class). Our class will consist of 2 days of a combination of software use with  embroidery and sewing. Each student will receive a CD of design and artwork so you can practice at home.  The class will be limited to a small group of students. Call Hancock at 410 677 3461.  - fee $150.00, kit fee $10.00 #3600913
Sewing For The Home

Home Decorating Basics- Beginners welcome! Learn to put in a zipper and make a piped pillow, try a cording foot, do some binding.  This class will give you some skills to use in projects you make for the home.  Bring 1 ¼" yard of a pillow fabric, matching thread and 2 yds of 5/32" cord and a 24 " zipper to make your  16" piped pillow. Also bring your machine and zipper foot. $30.00 #3466158

Wednesday January 8th 1:30 - 4:30pm
Sunday February 9th 1:00- 4:00pm

Quilting Classes
N
ew! Learn to quilt by Machine- Learn to stipple and use the walking foot. You will need 1 yard of off white quilter's solid broadcloth, 1 spool of off white thread about 2 shades darker than fabric and 1 yard of fusible fleece plus one washaway marker. Please enroll at least 1 week before the start date.  We will need your machine make and model number to fit your machine for a free motion foot and a walking foot. Using an off white broad cloth we will learn to do free motion machine quilting and create a pillow top. #3600939
Sunday February 2nd 2014 12:30pm to 3:30pm


"Quick Trip" by Quilt in a Day  Beginner level! This class is a great way to start quilting. Use either  your  serger or your sewing machine to make this fun, fast and easy quilt.   Spend the morning picking your fabric and cutting the strips and borders.  Jenny will help you coordinate the fabrics for purchase. Single faced quilted fabric is suggested for batting and backing. The "Quick Trip" book is required and can be supplied for purchase by Jenny's Sewing Studio at a cost of $18.95. Time is allowed to create most of quilt top.
Bring your machine or ¾  spool serger, I suggest white or off white thread, scissors for trimming and cutting fabric, pins, Quick trip book, ¼" foot and walking foot. We will provide an iron. See you there.
Fee- $50.00- limit 4 -(Crib size only) 1-all day session #3467255
Saturday January 11th 10:00 - 4:30pm


"Braid in a Day" is a brand new Quilt in a Day quilt pattern. Let's try it! One jelly roll will create the braids of the quilt or we can send some time at the beginning of the class picking your colors. you will need 9- 1/4yds of fabric plus 1/2yd of lattice, 3/4 yds in other lattice,1 1/2 yds for border and binding and 1 3/8 yds of pre-quilted fabric for back. 1 all day class, $50.00 class fee, fabrics extra. Patterns will be available for purchase from Jenny. You will need a rotarty cutter, a ruler and a washable fabric marker. #3625175
Saturday December 14th 10:00 till 4:30pm
-------------------------------------------------------

Finish the quilt  - Have you taken the "Quick Trip" or the "Log Cabin" or the "Braid in a Day" class and need to finish your quilt? This class is designed to show you how to prepare and quilt the quilt. Next you will learn how to bind and finish the quilt. Spend the class laying out the quilt to quilt, using a walking foot to quilt and how to make and sew the binding. (No large quilts please! Quilts should be twin and baby size due to space restrictions) (Please bring medium safety pins to hold the layers. I suggest a pre quilted backing because of time limit) 1 session -$30.00 #3663986
Sunday March 9th 1:00-4:30pm
_____________________________________
Knitting and Crochet

Beginner Crochet skills- Learn to chain, single, double, half double, and triple crochet. Learn the basic granny square. You will need one ball of a worsted weight yarn in any color for Practice. Bring crochet hook in size 8. 1-2 hour session $30.00 #3673787
Wednesday December 18th 1:30-3:30
Sunday January 12th 2014 2:30-4:30pm
Sunday Februray 23 2014 2:30-4:30pm

Beginner
Knitting skills- In 2 hours learn to cast on knit, purl, decrease and increase. Make a knit swatch for guage. You will need one ball of worested weight yarn in any color for practice. Bring knitting needles in US 8 1-2 hour session $30.00 #3673795
If you wish to make the Rigoletto scarf, yarn will be supplied by the instructor along with printed instructions for a  fee of $10.00. Project is a great gift idea and can be finished in one afternoon. Crochet Basic class to follow knitting class.
Wednesday December 18th 10-12:00
Sunday January 12th 2014 12:30-2:30pm
Sunday February 23 2014 12:30-2:30pm


If you have taken our knitting and crochet class already and want a refresher, you can attend any beginner session for free. You can also start a Rigoletto scarf in the free session.  Make sure there are enrolled students for the session before you come to class by calling Hancock at 410 677 3461. It would also be great if you send me an email at This e-mail address is being protected from spambots. You need JavaScript enabled to view it with your name and phone number and date you will be attending.
| | |
| --- | --- |
| | |
Singer Futura 2 day seminar Saturday and Sunday January 25th and 25th 2014.  Enroll Now for only $150.00.  Location is Hancock Fabrics in Salisbury, MD. Fee is $150.00 per student which includes materials for Saturday and Sunday.  Each student will receive a copy of the designs used in class and instruction that covers the basic program plus Hyper font, Editing, Auto punch, Photo stitch, and Cross stitch.  Students will also receive materials for an embroidery project using the lettering and multi-hooping. To enroll call Hancock's at 410-677 3461
Would you like to learn about sewing machine embroidery? Do you own the SINGER® Futura™? Are you thinking about making a Futura purchase? Are you looking for a class on how to get the most from the SINGER® Futura? Spend time with us learning about the SINGER® Futura™.


If you have the older Futura you will need to upgrade for class or you can just watch our projector video show. Our "hands-on" 2 day class will be filled with techniques that will help you to better understand how to embroider and use the Futura™ software plus we will sew and embroider on the Futura.
Jenny of Jenny's Sewing Studio will spend time showing you how to use the Auto punch, Hyper font and Photo stitch and Editing program options. Time will also be spent reviewing stabilizers and other items that will enhance your embroidery. Students attending will be given images and designs to practice with. Bring your Futura in good working order, your laptop with the programs installed and fully functional, thread, scissors, and a pen for notes. Make sure all your software is installed before class. Enroll Now! Space is limited! If you have questions you can email me at This e-mail address is being protected from spambots. You need JavaScript enabled to view it



Please note: Each student must be familiar with the laptop computer they own. Please bring and mouse. Please know how to cut, copy, paste, make a file, make a folder, save as, and save and be able to find the folders and files later.



Here are place to stay:
Hampton Inn  410-334-3080
Country Inn and Suites  410-742-2688
We also have a local airport that is serviced by US AIR. Our commuter flies to Washington Regan, Philadelphia, PA. and Charlotte, NC.